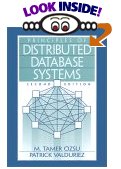 I am currently making my way through the book, "Principles of Distributed Database Systems." It reads like an academic course textbook, as I imagine was the authors intent.
I find it fascinating… It is also a bit challenging to try and remember what it's like to be learning new notations and abstracted academic concepts. My day to day is so grounded in building customer solutions (very practical, with good applied technique and concepts) that I have to be deliberate to keep the mind sharp.
One thing that I'm particularly enjoying about this book is that I am seeing some of the concepts that I use my role as a BI Consultant from their starting points. I'm accustomed to interpreting Oracle plans, statistics, etc and now I'm able to relate that to the abstract concepts they represent.
I have to admit though, my interest does have a particular project in mind… I'm always wanting to build something that is more clever, and better than what's out there now… This book might help me solidify some of those thoughts and add direction to my company R&D focus.