Oracle Readers: Think MERGE Statement. 🙂
It's common to need to generate surrogate keys as part of a Data Warehouse / Business Intelligence solution. Protecting your users from souce system changes, or using time variant data are just a couple of the reasons why one needs to generate a surrogate key when loading data into a DW.
Here is a simple example. I'm loading Product data from an XML file into a MySQL table. The transformation in Kettle looks like this: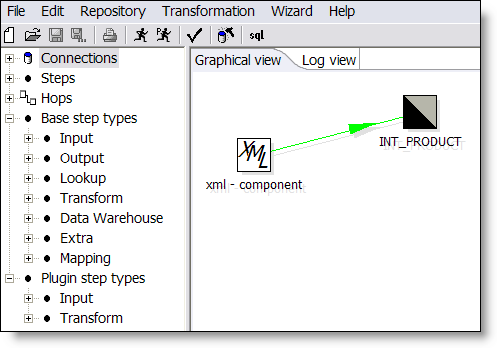 The output coming out of the XML file has been flattened using XQuery so that it looks like a flat table struture. Here's a screen capture of a nifty feature of Kettle where you can preview the output of a step:

Ok, this is our source data. The ID you're seeing is the OLTP key. We'll refer to it as the Natural Key. This is the ORDER_ID, or CUSTOMER_ID, or well, you get the idea. This is the key that your source application uses in it's relational structures.
What we want is to INSERT or UPDATE (aka UPSERT) this record into our DW. We'll INSERT if we don't already have this NATURAL key in the DW and generate a surrogate primary key. We'll UPDATE if we already have this NATURAL key in the warehouse.
Our table looks like: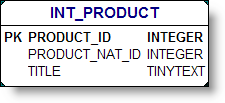 The DDL to create the TABLE is important:
CREATE TABLE INT_PRODUCT (
PRODUCT_ID INTEGER NOT NULL AUTO_INCREMENT,
PRODUCT_NAT_ID INTEGER NOT NULL,
TITLE TINYTEXT,
CONSTRAINT INT_PRODUCT_PK PRIMARY KEY (PRODUCT_ID),
UNIQUE INT_PRODUCT_NK (PRODUCT_NAT_ID)
) ENGINE=InnoDB DEFAULT CHARSET=latin1;
Notice that our PRIMARY KEY is the Surrogate we've set up to be an AUTO_INCREMENTING column. This means that MySQL will generate a surrogate when we INSERT a record. All we have to do is get Kettle to match our unique contrainst (INT_PRODUCT_NK) and either INSERT/UPDATE.
I've used the INSERT / UPDATE operator in Kettle. The configuration looks like this: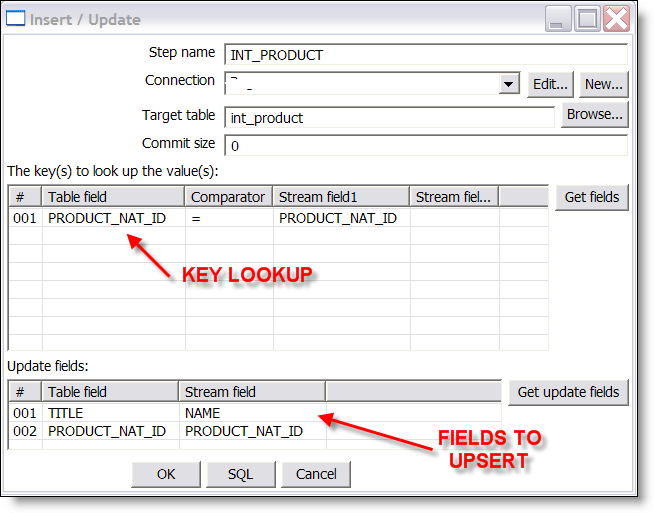 What we're doing is configuring Kettle to do a lookup on the table to see if the natural key already exists. If it does, we'll perform DML (insert or update) on the fields in the lower window.
After running the transformation my INT_PRODUCT table looks like this.



Now, I realized I didn't choose very illustrative natural keys (all are 1,2,3) but the PRODUCT_ID comes from MySQL as a surrogate.
Subsequent executions of this Kettle transformation will INSERT records as they arrive or UPDATE. MySQL and Kettle in combination are making quick work out of generating these surrogates!
I invite Kettle experts to chime in on any optimizations/quirks.