I've wanted to fly since I was 14.  I started training in 2004, but cut it short when I moved from Boston to Seattle.  The wife was kind enough to give me a swift kick in the butt telling me to go get the license now; doing so later in life will be more difficult.
In May I logged 15 hours of dual instruction at Boeing Field (short 15 min drive from my house) and yesterday I soloed the 172 Skyhawk N52139 for the first time.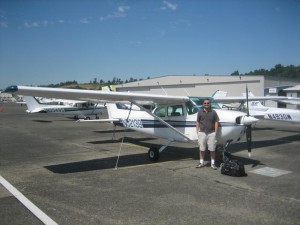 I was expecting the solo to be intense; thinking intensely and hearing my instructors voice in my head with all the things that have to happen all at the same time to get the plane safely on the ground.  Instead, I found that after the training, I know how to simply "fly the plane" and was just doing what I knew the plane needed to land softly without much thinking.  After 2 touch and gos and a full stop landing both me and my instructor concluded I've acquired the "walking and chewing gum" skills when it comes to flying.
I'll be continuing training hours over the next couple of months.  I'm aiming for September for getting my license so I can take my wife places with me in the plane.  After all, her encouragement is what got me going on this old aspiration; least I can do is fly her to dinner in the San Juans.